In This Series
Series Info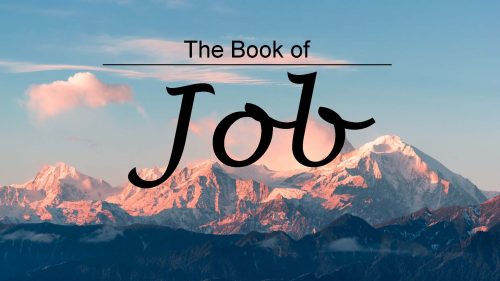 Job (1)
Sunday, February 16, 2020
February 16, 2020 - PM Service
Job 13:7 New International Version (NIV)
Job had lost his Oxen, Donkeys, and servants………sheep and the servants…..camels and the servants…..sons and daughters killed……his health…..
Will you speak wickedly on God's behalf? Will you speak deceitfully for him?
8 Will you show him partiality?  Will you argue the case for God?
9 Would it turn out well if he examined you?  Could you deceive him as you might deceive a mortal?
10 He would surely call you to account.  if you secretly showed partiality.
11 Would not his splendor terrify you?   Would not the dread of him fall on you?
12 Your maxims are proverbs of ashes; your defenses are defenses of clay.
13 "Keep silent and let me speak; then let come to me what may.
14 Why do I put myself in jeopardy  and take my life in my hands?
15 Though he slay me, yet will I hope in him;  I will surely defend my ways to his face.
Bildad, Eliphaz, Zophar…..after the third speech, Job responds…..they have basically told Job that all of his troubles is because he has been disobedient……for 7 days they had been silent, but out of pressure they feel they have to say something so they all begin to preach to Job….and tell Job what they think is a message from God Himself.
Job is responding to his friends who claim to representing God.  But they are not really representing God at all.  They think they are….but they are not.  They are mistaken.  They think Job is in trouble because he has done something to deserve the mess he is in. So his friends are tying to explain to Job why God did what He did…..and Job is arguing with them telling them that he is innocent….but they insist that he must have done something wrong or else God would not be doing this to him.